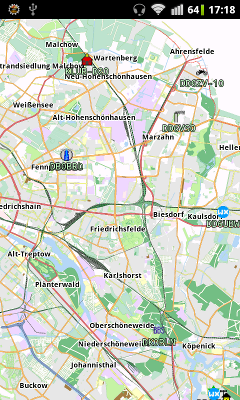 APRSdroid Offline Maps (using OSM)
After an increasing number of requests for offline map support (and the introduction of the internet-less Bluetooth TNC support), there is now preliminary offline maps support in APRSdroid!
Download
You can download a build tagged "osm" from the builds directory, or use the latest available OSM APK.
Status
The mapsforge project (version 0.3.0) is used for vector rendering of the map on your phone.
The OSM version has the same functionality as the Google Maps version (plus a map scale), however it is not possible to have both installed at the same time.
Howto
It is really easy :-P
Download the right map file from MapsForge or from OpenAndroMaps. There is a custom maps generator as well (select "Mapsforge OSM" format).
(If there is no premade map file) Follow the excellent map conversion HOWTO from the Serval Project (related: mapsforge wiki, c:geo FAQ for offline maps, older mapsforge version)
Store the file as aprsdroid.map on your Android device's SD-Card directory (/sdcard/aprsdroid.map).
Have fun!
P.S: Please notify me if you have found MapsForge maps for other regions!
More on Map Files
The map files are the same as used by c:geo and GPSSend. Maybe somebody can make a world maps package and make a torrent? :-D
There is a german howto for map conversion as well.
Map of the USA
Sean KS9N was very friendly to create a map of the whole USA, which has an acceptable size of 2.3 GBytes. The map was created in July 2013, and is available via torrent and from the web.